Extended Producer Responsibility – EPR
Producer responsibility refers to companies' obligation to handle the waste management of products they have imported or manufactured when the products are discarded at their own expense. The authority monitoring the implementation of extended producer responsibility (EPR) is the ELY Centre for Pirkanmaa region (excluding the Åland Islands).
Producer responsibility for waste management applies to 15,000 Finnish manufacturers, importers and packagers, as well as distance sellers.
Producers with producer responsibility are:
manufacturers and importers of electrical and electronic equipment (EEE) and vendors selling such equipment under their own brand
manufacturers and importers of accumulators and batteries (including importers of vehicles and electrical equipment that contain accumulators and batteries)
manufacturers and importers of cars, vans or other comparable vehicles, and operators who import vehicles in the name of a Finnish user
importers, manufacturers and re-coaters of tyres, and importers of vehicles and equipment equipped with tyres
importers of paper products, and manufacturers and importers of paper used to manufacture paper products
packagers and importers of packaged products with turnover is a minimum of €1 million.
Due to changes in legislation, some single-use plastic products will also fall under the EPR.
There are three options for a company to fulfil its producer responsibility:
by joining a producer corporation, when the producer responsibility is transferred to the producer corporation, which fulfils the producer responsibility obligations on behalf of the producer
by submitting an application for registration in the producer register to the ELY Centre for Pirkanmaa region and organising the collection, recycling and other waste management of products covered by the company's producer responsibility at its own expense
by setting up a producer corporation together with other producers.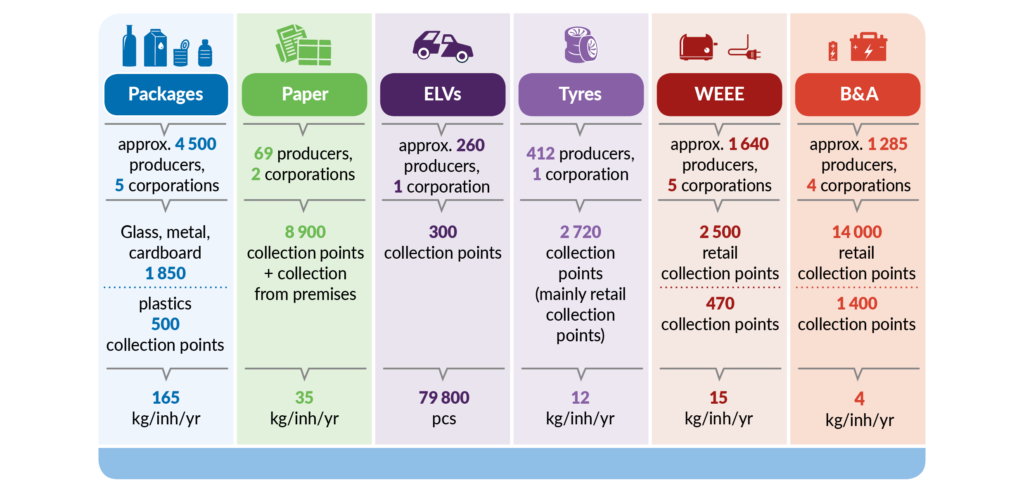 The Centre for economic development, transport and the environment or ELY Centre for Pirkanmaa region keeps a public list of the companies in the producer register. The list has both producers and producer corporations.
A producer corporation (or producer organisation) is a legally competent corporation established to manage the obligations imposed on producers. Only producers can form a producer corporation and be members of it. In practice, most producers have joined the corporation due to the fact that arranging collection especially for waste from Business-to-Consumer products is impossible for individual producers due to the large amount of collection points they would have to arrange. The number of collection points is defined in legislation and differ between sectors. Collection points are free-of-charge for end users, and they must cover all municipalities. There can be several producer corporations in the same sector. In that case, they have to cooperate especially in regard to collection networks.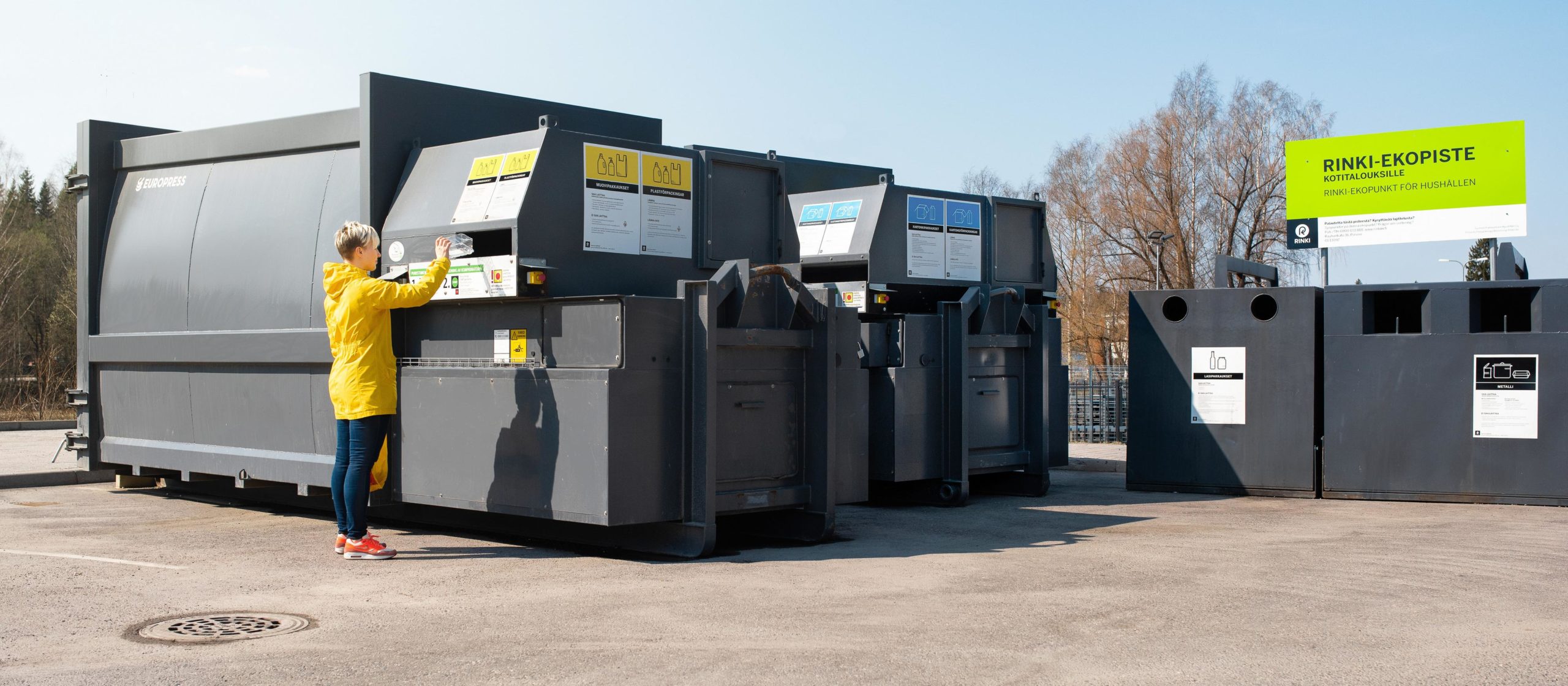 Rinki eco take-back station. Source: https://rinkiin.fi/tietoa-ringista/
Once joining the corporation, the producer transfers all the responsibilities to it. It includes:
organizing waste management (transport, treatment, reuse, recycling etc.);
arranging collection points that are free of charge for end-users;
providing information to end-users about the collection points and other issues, which may affect waste management;
covering the associated costs;
keeping a record of imported, collected and recycled amounts and submitting the information annually to the authority;
ensuring that targets for preparing for reuse, recycling and other recovery are fulfilled